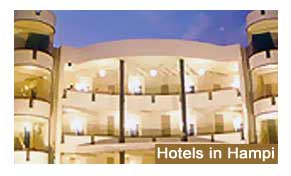 A World Heritage Site recognized by UNESCO, Hampi in Karnataka is located within the ruins of Vijayanagara, the erstwhile capital of the Vijayanagara Empire. It is the most evocative of all the ruins in Karnataka. The historical city of Hampi offers ample accommodation options for tourists visiting the city. In terms of hotels you may choose from lodges and guesthouses to a number of hotels in Hampi.
Lying in northern Karnataka, on the banks of the Tungabhadra River, Hampi is a historical destination par excellence, widely renowned as the 'City of Ruins'. The perfect place to witness Indian sculpture in all its richness and vitality, Hampi houses magnificent temples, monolithic sculptures and monuments, attracting visitors from worldwide by showcasing exquisite workmanship. The rugged landscape further adds to the historic charm of Hampi.
The city of Hampi offers various hotel packages with the best of facilities. The elegant rooms are fitted with all the comforts to make you feel at home. Take your pick from a range of luxury and budget hotels in Hampi and enjoy the luxuries of life while staying at the hotel. Indiahotelandresort will provide all the travel services like air ticketing, hotel booking, car rental etc to make your trip to Hampi a pleasantly memorable one.
Most of the Hotels in Hampi are concentrated in the vicinity of the Hampi Bazaar near the main bus station and the Tourist Office. A sizeable proportion of the hotels in Hampi can also be found in the area north of the bazaar across the Tungabhadra River.
The Hotels in Hampi will surely enthrall you with the warm services they provide you These hotels also boast of outstanding hospitality amid and luxurious comforts. The well-furnished rooms and personalized services at the Hotels in Hampi are the perfect foil for a pleasant vacation. The in-house restaurants at these hotels specialize in delectable Western cuisines as well as Indian delicacies.
Indiahotelandresort.com offers online information and bookings for accommodation at the Hotels in Hampi, Karnataka.