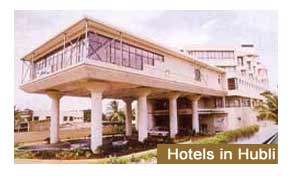 Hotels in Hubli are some of the most attractive and efficient hotels in Karnataka. Hubli is a city situated about 20 km east of Dharwad in Karnataka. This Hubli city is the commercial center of the district. Cotton and peanuts are grown in plenty in the surrounding rural areas. Hubli is a major trading center for both the commodities outside the state. Hubli is also an important city for the Indian Railways, being the zonal headquarters of South Western Railway and the Hubli Division. Hubli is an important industrial center in the state of Karnataka with more than 1000 allied small and medium industries already established. The city of Hubli is famous for the machine tools industries, electrical, steel furniture, food products, rubber and leather industries and tanning industries. It seems that the hotels in Hubli are in a constant effort to impress the tourists, and in this run of surpassing each other in facilities and services, they provide excellent accommodation and services that are at par with the best in the hospitality industry.
Along with deluxe hotels, the city of Hubli also houses some enviable economy hotels. The facilities you can get at the economy hotels in Hubli are attached bathrooms with separate shower cubicles, tea/coffee makers, mini bar, color television, international direct dialing telephones, 24 hour Room Service, in -house laundry and dry-cleaning. The banquet hall makes an ideal venue for conferences. The Halls engaged for parties and receptions offer a wide variety of multi cuisine selections also. In each of the hotels generally there is at least a restaurant serving Indian flavors from the sub-continent. Oriental and Chinese cuisine are also available at many of the hotels in Delhi. In addition to this many of the hotels also have a live band playing in the evenings at the bars.
The city has an advantageous location and is surrounded by a number of important historical and mythological places thus making it a leading tourists spot in Karnataka. within a radius of about 200 km in the city you can see important tourist and historical places such as Ghataprabha, Gokak Falls, Soundati Yellamma Temple, Kittur, Badami, Pattadkal, Aihole, Kudalasangam, Bijapur, Bagewadi, Basavakallyan on northern side, on the western and southern sides there are Dandeli, Port-town of Karwar, Gokarn Magod falls, Ulavi, Banavasi, Jog-falls, Shimoga and Bhadravathi, Laxmeshwar and Tungabhadra Dam and on eastern side Hampi, Lakkundi and Mantralaya.
Indiahotelsandresort.com offers online information on hotels in Karnataka.