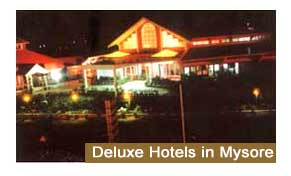 Introduction
Famous for being the capital of the illustrious Wodeyar dynasty, the entirety of Mysore is a haven for tourists from all around the world. Exemplifying the rich history and culture of India, as well as that of Karnataka, a tour to Mysore is a definite must include if you are planning a tour itinerary to Karnataka. Sprinkled liberally with some of the most spectacular palaces, temples and gardens, a trip to Mysore is an unforgettable travel experience. Adding a complete contrast to her role as one of the most traditional cities of India, Mysore has today grown up to resemble a bustling metropolis, dotted with some of the most impressive names in business as well as skyscrapers and plush shopping malls. Added to these are the various hotels in Mysore, notable amongst which are the Deluxe Hotels in Mysore. Providing a bouquet of benefits at a tariff which is surprisingly affordable, the various, Deluxe Hotels in Mysore offer a cocoon of comfort and convenience to various travelers on a trip of travel to Mysore.

Reaching Mysore is one of the easiest things to do as, being an important tourist destination of Karnataka, the city is well connected to almost all the other parts of the country. Reaching Mysore by air is easy as the nearest domestic as well as the international airport to Mysore is at Bangalore. Located around 130 kms away from the city of Mysore, Bangalore is well connected to almost all the major cities of India as well as a number of international cities. There is an airport at Mysore as well, which, is however, not operational as yet. The city is also well connected by rail as the main railway station of Mysore is the Mysore Junction, which is well connected to major cities of India such as Bangalore, Chennai, Mumbai, New Delhi as well as Thanjavur. Smooth roads connect Mysore to almost all the other cities of the region. A number of vehicles ply on these roads, which also include the famous Volvo buses which are the perfect recipe for making your tour to Mysore as comfortable as possible.


Indiahotelandresort.com offers online room booking as well as other relevant information at the Deluxe Hotels in Mysore and other hotels of India.