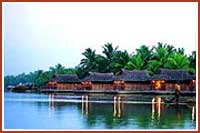 Kovalam in Kerala is one of the most popular beach destinations in India, admired worldwide for its stunning beaches and exquisite natural beauty. Hoards of tourists visit Kovalam every year, to get mesmerized by its spectacular crescent beaches, the gorgeous blue sea, and the luxurious spread of green palm groves.
Kovalm offers several hotels and resorts in order to cope up with the immense tourist inflow in the region. The Three Star Hotels in Kovalam are ideally suited for budget conscious travelers and they ensure a comfortable stay amidst a picturesque setting.
You can enjoy all modern comforts at pretty affordable rates at the three star hotels in Kovalam. Offering quality services added with a dash of warm hospitality, these hotels and resorts are a widely preferred choice for tourists visiting Kovalam.
If you are looking for a comfortable vacation at pocket friendly prices, then the Three Star Hotels in Kovalam are the perfect options for you. Step into the warm ambience of these hotels and enjoy the feeling of being really cared for, as if you are at home away from home.
A number of three star Hotels in Kovalam are ideally located along the spectacular beaches, and this makes them all the more popular among visitors.
The rooms of the hotels are tastefully furnished and many of these further lure the guests by providing scenic views of the spectacular Kovalam coastline.
Three Star Hotels in Kovalam provide a wide array of Indian and international cuisines besides delicious Kerala fare – prepared and served in traditional ways. Your tour to Kovalam will remain incomplete unless you indulge in some of the traditional Ayurvedic therapies and massages Kerala is so renowned for. The 3 star hotels in Kovalam provide customized Ayurvedic packages which can rejuvenate you completely by healing your body, mind and soul.
Indiahotelandresort.com offers online information on Three Star Hotels in Kovalam, Kerala.