Introduction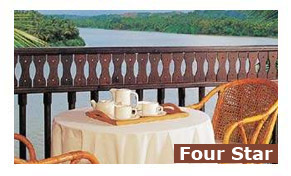 Located amidst the azure waters of the Arabian Sea and home to the famed backwaters of Kerala, the beautiful city of Kozhikode is today one of the most popular tourist destinations of Kerala. Also known as Calicut, the historic city of Kozhikode is blessed with a heritage that has always influenced the culture of Kerala. Thus, if you are planning a trip to Kerala, make sure you include a tour to Kozhikode as an integral part of your tour itinerary to Kerala. The city, blessed with all forms of modern amenities and facilities is also home to a number of accommodation facilities for the tourists planning a holiday in Kozhikode. These include several reputed four star hotels in Kozhikode, many of which are reputed names in the world of the hospitality in India.
Reaching Kozhikode

Air:
Kozhikode has its own airport, which links the city to a number of other cities like Trivandrum, Chennai, Bangalore, Bombay as well as Kochi from where one can choose from a number of international flights as well.
Rail:
Kozhikode is well-connected to a number of other cities of Kerala. These include Kochi (Cochin), Thiruvananthapuram (Trivandrum) as well as other important cities of India like Chennai, Mangalore, Bangalore, Bombay, New Delhi and Calcutta.
Road:
Kozhikode is well-connected to a number of the other cities of the region by road. These include Mangalore, Kochi, Thiruvananthapuram, Chennai, Bangalore and Coimbatore. Regular bus services are available connecting these cities to Kozhikode.
Water:
Kozhikode is well-connected with a number of important cities of the region by water which include cities like Alleppey and Kottayam.
Indiahotelandresorts.com offers online room booking at the Four Star Hotels in Kozhikode and other Hotels of India. m