Introduction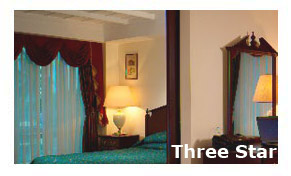 One of the most important cities in Kerala, Kozhikode is one of the most popular tourist destinations in Kerala. It is also home to the famed backwaters of Kerala as well as a number of renowned educational institutes of India. Thus, a number of people travel to Kozhikode each year, for reasons which range from a holiday in Kozhikode to a business trip in Kozhikode as well. Providing comfortable lodgings to travelers on a tour to Kozhikode are the various three star hotels of Kozhikode.
Reaching Kozhikode

Air:
Kozhikode has its own airport, which links the city to a number of other cities like Trivandrum, Chennai, Bangalore, Bombay as well as Kochi from where one can choose from a number of international flights as well.
Rail:
Kozhikode is well-connected to a number of other cities of Kerala. These include Kochi (Cochin), Thiruvananthapuram (Trivandrum) as well as other important cities of India like Chennai, Mangalore, Bangalore, Bombay, New Delhi and Calcutta.
Road:
Kozhikode is well-connected to a number of the other cities of the region by road. These include Mangalore, Kochi, Thiruvananthapuram, Chennai, Bangalore and Coimbatore. Regular bus services are available connecting these cities to Kozhikode.
Water:
Kozhikode is well-connected with a number of important cities of the region by water which include cities like Alleppey and Kottayam.
Indiahotelandresorts.com offers online room booking at the Three Star Hotels in Kozhikode and other Hotels of India.