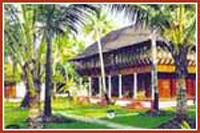 Introduction
Nestled in the lap of nature, perhaps no other district of Kerala epitomizes the beauty of Kerala as well as the district of Kumarakom, which truly represents "God's Own Country" in all its aspects. Home to the famed backwaters of Kerala and surrounded by the green hills of the Western Ghats, Kumarakom is today one of the most popular tourist destinations in Kerala. Sunny beaches and smiling faces characterize this scenic tourist destination of Kerala, which is a definite must visit if you are planning a trip to Kerala. Visited by thousands of people each year, the region is also home to a number of hotels and guest houses which provide accommodation to the travelers on a holiday in Kumarakom and which can cater to a wide range of tastes and budgets. Providing the famed hospitality of Kerala, the various hotels of Kumarakom can also be used as a base for planning excursions to and from Kumarakom.
Reaching Kumarakom
Air: The nearest airport to Kumarakom is the International Airport at Kochi about 85 kms away from the city. Besides this, the domestic airport at Calicut or Kozhikode is also important for connecting the city to the other cities of India.


Rail: Kumarakom is well-connected to a number of other cities of Kerala. These include Kochi (Cochin), Thiruvananthapuram (Trivandrum) as well as other important cities of India like Chennai, Mangalore, Bangalore, Bombay, New Delhi and Calcutta.


Road: Kumarakom is well-connected to a number of the other cities of the region by road. These include Mangalore, Kochi, Thiruvananthapuram, Chennai, Bangalore and Coimbatore. Regular bus services are available connecting these cities to Kumarakom.


Water: Kumarakom is well-connected with a number of important cities of the region by water which include cities like Alleppey, Quilon and Kottayam.


Indiahotelandresorts.com offers online room booking at the Hotels in Kumarakom and other hotels of India.