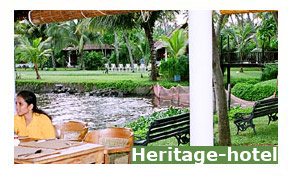 Introduction
Defining serenity like never before, the beautiful region of Kumarakom is today one of the leading tourist destinations of Kerala. If you are planning a trip to Kumarakom, be prepared to be swept off your feet by the magical beauty of this region, the innocent smiles on the faces of the people as well as the refreshing air whose memory remains with you for ages even after the completion of your holiday in Kumarakom. Drawing several people to its land, the pristine beauty of Kumarakom is perhaps the best example of the oft-repeated mantra concerning Kerala tourism, "God's Own Country". It is also one of the best options of accommodation in Kerala, with a number of the hotels of Kumarakom catering to various needs and budgets of travelers on a tour to Kumarakom. Rich in a culture and heritage that dates back to ages immemorial in the history of Kerala; Kumarakom also shares its rich heritage in the form of the heritage hotels of Kumarakom.
Reaching Kumarakom
Air: The nearest airport to Kumarakom is the International Airport at Kochi about 85 kms away from the city. Besides this, the domestic airport at Calicut or Kozhikode is also important for connecting the city to the other cities of India.


Rail: Kumarakom is well-connected to a number of other cities of Kerala. These include Kochi (Cochin), Thiruvananthapuram (Trivandrum) as well as other important cities of India like Chennai, Mangalore, Bangalore, Bombay, New Delhi and Calcutta.


Road: Kumarakom is well-connected to a number of the other cities of the region by road. These include Mangalore, Kochi, Thiruvananthapuram, Chennai, Bangalore and Coimbatore. Regular bus services are available connecting these cities to Kumarakom.


Water: Kumarakom is well-connected with a number of important cities of the region by water which include cities like Alleppey, Quilon and Kottayam.
Indiahotelandresorts.com offers online room booking at the Heritage Hotels in Kumarakom and other hotels of India.