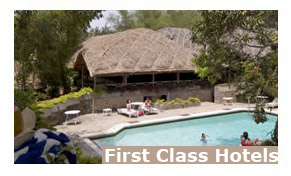 First Class Hotels in Thekkady offer the best of comfort and services in Kerala. Well furnished and well equipped these hotels are the comfort hub of tourists and offer excellent personalized service to the guests. A class apart in comfort and luxury the first class hotels in Thekkady make your vacation truly a luxurious royal retreat.
Location:Nearest Airport:
Cochin Airport: 140km
Madurai Airport: 200km
Nearest Railway Station: Kottayam is 114 kms away
Tourist Attractions of Thekkady and Periyar:
The tourist attractions of Thekkady are its Spice Plantations and the Periyar National Park.
Periyar National Park: Periyar National Park is famous for its different species of flora and fauna. The National Park which also is a Tiger Reserve is the home for a number of animals like Gaur, Wild Pigs, Sambar, Barking Deer, Mouse Deer, Dole or Indian Wild Dog. If you are lu7cky enough you can get to see some playful elephants on the banks of the Periyar Lake.
Periyar Lake: A boat cruise along the Periyar Lake is the perfect way to view its vast range of flora and fauna. Animals at times flock around the lake and itís a wonderful sight for the visitors.
Kumily: Just near Periyar, Kumily is one of the growing spice plantations of Kerala. From the daily edible spices to different other spice varieties, Kumily is now a growing township which is also known as the Spice Village.
Cardamom Hills: These are the hilly terrains in Kerala which is dotted with cardamom, pepper and coffee plantations. The thick plantations spread over the hilly area have earned the place the name of Cardamom Hills.
India Hotel and Resort can help you book your room at the First Class Hotels in Thekkady in Kerala. Find all you want to know about Hotels in Thekkady Kerala India and our customized hotel packages.
India Hotel and Resort.com offers online information and booking for stay at First Class Hotels in Thekkady Kerala India.