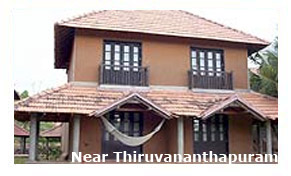 Thiruvananthapuram, the capital city of Kerala is a peaceful and attractive city that is built across seven hills. The old city has its quarters clustered around the temple and you can find churches, mansions of colonial era and modern edifices along the busy commercial point of the city. Walking along certain parts of Thiruvananthapuram you will come across old city charms, the red tiled roofs, intimate corner cafes and narrow winding lanes. Many of the tourist attractions of Thiruvananthapuram are about some kilometers away from Thirvananthapuram. Hotels near Thiruvananthapuram are in plenty to help you find lodging when you go to places like Kovalam beach about 12 kms away from the city or Vizhinjam, Ponmudi, Kanyakumari, Poovar or Varkala.
Hotels near Thiruvananthapuram are comfortable hotels and resorts. You may look for places with comfortable accommodation at a moderate cost. Luxurious resorts with plush ambience are also available for those looking for style and comfort.
Places of Interest near Thiruvananthapuram
Thiruvananthapuram is famous for its beaches. Some of the well known tourist attractions of Thiruvananthapuram are Kovalam beach about 12 kms south to the city, Vizhinjam, a modern fishing harbor about 2kms from Kovalam and Ponmudi, a resort about 912m above sea level, home to rubber estates.
The Kanakakunnu Palace located at the heart of the city is one of most buildings in the city. With a sprawling ground and a well laid garden the museum stands there housing the famous Shri Chitra Art gallery. Kanyakumari about 87 kms from Trivandrum, is another tourist hot spot. Varkala is a pilgrim spot which is 51 kms from Trivandrum is another important tourists spot.
Hotels near Thiruvananthapuram will offer you good lodging facilities with comfortable rooms at a reasonable rate. Log on to Indiahotelandresort to get information related to Thiruvananthapuram hotels and resorts and their availability.