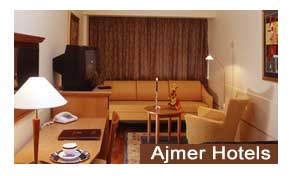 Ajmer is described as one of the most beautiful cities in Rajasthan. Ajmer is the base for visiting Pushkar, an important pilgrimage site in India. Pushkar is only at a distance of 11 km from Ajmer. Among some of the leading landmarks in the city is The Dargah, Shahjhan's Mosque, Adhai-din-ka-jhonpra, Taragarh Fort, Adhal-din-ka-Jhonpra, Mayo College. Ajmer is a holy city where you can get a dip into the Pushkar Lake and you will be free from all the sins. It is also believed that if you throw a coin into the waters of Pushkar and pray with a holy heart your wish is going to be granted by Lord. Hotels in Ajmer are also some of the beautiful places to be specially mentioned as they give the tourists a wonderful opportunity to stay in a healthy surrounding. Ajmer being a favorite tourist spot has many hotels to house the crowds of tourists.
The leading Temples in Ajmer are equally famous for their powerful influence and magical impact on Human life all around. Ajmer is a city of pilgrimage in Rajasthan. This city is rich in culture and its age old mythological beliefs. Ajmer is famous as it is made in such a way that it looks like a fortress from outside, especially from an aerial view.
Brahma Temple
New Rangji Temple
Savitri Temple
Saraswati Temple





Indiahotelandresort.com is well equipped to make your trip to Rajasthan fun and exciting.