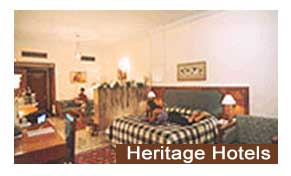 About Heritage Hotels in Ajmer
Heritage Hotels in Ajmer, Rajasthan are those hotels, which, at some point of time in history, were fortresses and castles of the great rulers of Rajasthan. These hotels are a special treat to the visitors, as the management authorities have ensured that the traditional work, carvings, décor and style of hospitality in the hotels remain as it were in the olden times. The heritage hotels in Ajmer recreate traditional Ajmer grandeur that mirrors the expensive lifestyle of the great Chauhans, Scindhia's and Mughals. These heritage hotels have opened their doors to those travelers, who, apart from enjoying lavish accommodation and related facilities, want to take back with them a part of the India's glorious History. Moreover, Ajmer Heritage Hotels recreate the traditional Ajmer grandeur that is evocative of the lavish lifestyle of the powerful Chauhans, Scindhias and Mughals.
Accommodation at Heritage Hotels in Ajmer
Enjoy royal and stately accommodation at the regal quarters in the Heritage Hotels in Ajmer. These chambers were used by erstwhile kings and queens, the royal families and royal guests. Ethnic décor, typical Rajputana ambience and royal care showered upon you are the trademarks of the accommodation facilities at these hotels and resorts. The basic room facilities provided by such hotels include attached baths, A/C, satellite televisions, direct dial telephones, refrigerators, etc.
Dining at Heritage Hotels in Ajmer
Food at the heritage hotels in Ajmer, Rajasthan include an eclectic variety of deliciously spiced dishes that recreate the Ajmer regalia. Besides, a wide variety of authentic Rajasthani, Indian and Continental dishes are served, keeping intact the regional touch and royal grandeur.
Business Facilities at Heritage Hotels in Ajmer
Most of the heritage hotels in Ajmer offer well-equipped Conference Halls along with some decent business facilities that are well suited to cater to corporate meetings and presentations.
Recreational Facilities at Heritage Hotels in Ajmer
The general recreational facilities available at most of the heritage hotels in Ajmer include in-house Swimming Pool, indoor/outdoor gaming facilities, camel safaris, horse rides or jeep safaris organized on request.
Other Facilities at Heritage Hotels in Ajmer
Explore the exquisite Ajmer tourist attractions as you avail of the travel assistance facility offered at all the heritage hotels in Ajmer. Some other basic facilities that these hotels offer include doctor on call, money changing, help desk, laundry services, STD/ISD lines, credit card, fax, courier services, etc.
City Info
Ajmer, situated in the green oasis wrapped in the barren hills of Rajasthan, has been witness to an eventful past. The city was founded by Raja Ajay Pal Chauhan in the 7th Century A.D, and today finds prominence as a revered pilgrim center for Hindus and Muslims. The major tourist attractions in the city include the Dargah Sharif-tomb of the Sufi saint Khwaja Moinuddin Chisti, Shahjhan's Mosque, Adhai-din-ka-jhonpra, Taragarh Fort, etc.
Indiahotelandresort.com offers online information and bookings for Heritage Hotels in Ajmer and in other destinations in Rajasthan, India.