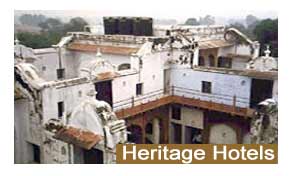 City: Bharatpur
State: Rajasthan
About Heritage Hotels in Bharatpur
Rajasthan is well known for its palaces and forts. The Heritage Hotels in Bharatpur are actually magnificent palaces which are presently rented out as hotels. There are very few experiences that can even come close to a stay in these Heritage Hotels. It is almost like a tryst with history. Get a taste of the kind of life led by the royals of yore. Feel regal in every respect when residing in this class of Hotels in Bharatpur.
Accommodation at Heritage Hotels in Bharatpur
The uniqueness of the rooms of the heritage hotels in Bharatpur lies in effortlessly combining the charms of the old world with the comforts of the modern. They are very elegantly decorated with antique furnishings and at the same time well equipped with all essential modern amenities. It is the perfect place to put up in for all those who choose to live life king size and in style.
Dining at Heritage Hotels in Bharatpur
Savor authentic Rajasthani cuisine at the Heritage Hotels in Rajasthan. Recipes which have been winning the hearts of gourmets for centuries are there to satisfy all your tat buds. These restaurants also serve Chinese and Continental dishes so that there is something or the other to suit every palate.
Business Facilities at Heritage Hotels in Bharatpur
Both the Heritage Hotels in Bharatpur serve as perfect venues for business meets and conferences. Audio/Visually Equipped, the Business Centers of this class of hotels are provided with facilities like Computer, Fax Service, Internet Facilities, Photocopy Service, Printer and Secretarial Services.
Recreation Facilities at Heritage Hotels in Bharatpur
Relax with a dip in the swimming pools of these hotels. The Heritage Hotels of Bharatpur have travel desks which do not just satisfy travel related quarries but also organize trips to the Kaladeo Ghana National Park. Cultural performances by rajasthani folk artistes are sure to make your evenings memorable for many days to come.
Other Facilities at Heritage Hotels in Bharatpur
A plethora of other facilities on offer right from laundry to medical services to car parking to money exchanging ensure that each day of your stay is hassle free.
City Info
Bharatpur, an old historical city of Rajasthan founded way back in the year 1733 by Maharaja Suraj Mal. It is presently one of the most important tourist destinations of Rajasthan and its greatest claim to fame is the Kaladeo Ghana National Park. A haven for all bird lovers, common tourists are also attracted to this bird sanctuary for the sheer number and variety of birds that one can see. Anyone is sure to be startled to see so many lovely feathered creatures at one spot and some of them come from very far away lands to make this sanctuary their home in the winters. It has even been declared as a World Heritage Site.
Whenever you are in Bharatpur for a visit, choose to put up in the Heritage Hotels in Bharatpur. It is sure to be an unforgettable experience in every respect. So long you might just have heard of the lifestyle of the royals, here's your chance to experience one. Never let go this opportunity, the money spend will be well worth it. Opt for online booking or online reservation in any of the Heritage Hotels in Bharatpur. For further details on them browse through the links:
Indiahotelandresort offers online information on the Heritage Hotels in Bharatpur, Rajasthan and offers online booking for a stay at the Heritage Hotels in Bharatpur, Rajasthan.