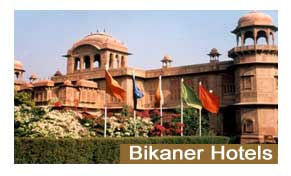 About the Hotels:
Bikaner with its association of myriad festivals, sand dunes, haunting abandoned forts and Havelis of yore attracts a large number of tourists every year. It is well worth taking a tour to Bikaner during the camel festival. A large number of hotels have cropped up in Bikaner, taking advantage of the upsurge of tourists every year. Interestingly, the main revenue of the state flows from the tourism industry and the hospitality industry. You can take your pick from a variety of hotels here.
If you are traveling on a shoe string budget, it is best you put up in the many economy hotels that offer you good value for money. If you are bent on luxury and money is not a constraint then the star hotels are just the right place for you with their many amenities and recreational facilities. You could also put up in the heritage hotels to experience a slice of life of the days of yore- the culture and traditions of the Maharajas and elites of Rajasthan. Hotels in Bikaner are many. Where you put up depends on your convenience and pocket.
Accommodation in Hotels in Bikaner:
The rooms of the heritage hotels in Bikaner speak of the days of yore. Most of these heritage hotels have tried to keep their culture and tradition intact. When you check in to these hotels you are almost checking in the way of life and tradition of those elites who stayed here. The forts bear testimony to their historical significance. The rooms of these hotels are decorated accordingly with a royal touch to them.
The plush accommodation in three star hotels provides you with well furnished rooms and restrooms. Many of these rooms are decorated keeping in mind the tradition of Rajasthan. Huge four poster beds, glass paintings in thick ornate frames, illustrious furniture adorn these rooms.
Budget hotels in Bikaner provide you good value for your money. Spacious and clean, these budget hotels are most of the time situated near the city hub. Accommodation in Bikaner is comfortable and you get almost all the facilities that you get in a city life.
Dining in Hotels in Bikaner:
Most of the Hotels in Bikaner serves authentic Rajasthani dishes. The star hotels and the Heritage hotels invariably have a plush bar counter wherein you could spend a leisurely evening with your friends. The dining halls of the heritage hotels are worth making a note with huge chandeliers, ornate utensils, and mahogany wood furniture and age old antic tables. Dining in Budget hotels are a wholesome fare.
Business facilities in Hotels in Bikaner:
In some of the heritage hotels and three star hotels, conference rooms are present for the smooth functioning of you business proceedings. Lal Garh Palace and Karni Bhawan Bikaner are some of the hotels that offer you conference facilities.
Recreational Facilities in Hotels in Bikaner:
Many of these heritage hotels in Bikaner organize cultural programs and expeditions to the forts. These forts moreover are situated over a vast stretch of land. You could take a walk round the well manicured gardens that the hotels offer. A well stocked bar, swimming pool, billiard room are present in many of these luxurious hotels.
Other facilities in Hotels in Bikaner:
Some of the facilities that most of the budget hotels in Bikaner offers are:


Twenty four hour room services
Safe deposit
Travel Desk
Money exchange
Laundry services
Telephone
Television

City Information:
Located in the Northern part of Rajasthan, Bikaner is one of the most frequented tourist spots in Rajasthan. Huge sand stone forts, palaces and sprawling Havelis, all create an atmosphere of erstwhile beauty and mystery. A desert safari in a camel is a pleasant welcome. Sand dunes in all shapes and sizes abound in Bikaner. Winter sees Bikaner at its colorful best with all the festivals and fairs making the rounds. People in colorful Rajasthani dress and headgears throng the market place.

For a trip to Rajasthan in India book a tour with Indiahotelandresort.com. Log on to Indiahotelandresort.com to know more about Hotels in Bikaner.