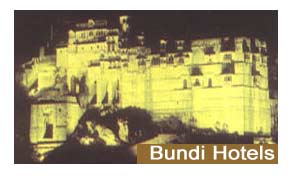 Introduction to Bundi
One of the prettiest districts of Rajasthan, a trip to Bundi is a trip into the rich history and heritage of Rajasthan. Dotted with monuments which remain even today as silent witnesses of an age gone by, a holiday in Bundi is a definite must have if you are planning a tour itinerary to Rajasthan. The district, which maintains its place as one of the premier tourist destinations of Rajasthan also provides perfect accommodation facilities to the various tourists who arrive on a tour to Bundi. Thus, if you planning a vacation in Bundi, you can, choose from a wide range of the hotels in Bundi, to make the most of your stay in Bundi.
Major tourist attractions
A touristís paradise, Bundi is known for its varied attractions. Almost every brick of this ancient land has a legend to speak of, which can still be observed in the various tourist attractions of Bundi like:
The Taragarh Fort
Shikar burj
Jait Sagar
Phool Sagar

How To Reach Bundi
Located in the heart of the beautiful province of Rajasthan, the city of Bundi can easily be reached by:
By Rail :- Bundi is well connected to the other cities of the region like Kota, Neemach (MP), Chittaurgarh, and Delhi by rail.
By Road :- Smooth roads which are maintained well connect Bundi to a number of the other important cities of Rajasthan and its neighboring provinces.

Indiahotelandresort.com offers online room booking at various hotels in Bundi and other cities of Rajasthan.