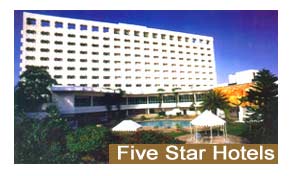 About Five Star Hotels in Jaipur
The capital to the state of Rajasthan, Jaipur is more commonly known as the Pink City owing to its pink stucco constructions that resemble sandstone. Jaipur is the former capital of the princely state of Jaipur, founded in 1727 by Maharaja Sawai Jai Singh II, the ruler of Amber. Jaipur was the first planned city in India. Home to the Hawa Mahal, the Amber Palace Fort and many more architectural wonders of the Rajput era, Jaipur is a place no tourist misses out on, on a tour to Rajasthan. The accommodation facilities available in Jaipur are therefore varied both in terms of the facilities available and also in terms of the expenses. The five star hotels in Jaipur are mostly housed in elegant buildings owned by the royal family or the off shoots of the royal family. The growing expenses and the comparatively diminishing rate of income for the royal families are the primary reasons why there are so many heritage luxury hotels in Rajasthan. Besides, these palatial mansions demand a high maintenance cost which are considerably recovered once turned into a hotel.

Accommodation Facilities at Five Star Hotels in Jaipur in Rajasthan
The Jaipur five star hotels offer elegantly luxurious accommodation with the accompaniment of latest facilities. Most of the Jaipur hotels of five star category offer attached bathrooms, AC, running hot & cold water, climate control, refrigerator, mini bar, room service, etc. Dining at Five Star Hotels in Jaipur Rajasthan
The five star hotels at Jaipur in Rajasthan are equipped with restaurants and bars that serve multi cuisine and choicest liquors. The spicy Rajasthani cuisine obviously attracts more flies than the others here in Jaipur. Recreational Facilities at Five Star Hotels in Jaipur
The Jaipur five star hotels offer interesting recreation facilities. Outdoor games, indoor games, swimming pool, fitness centre are some of the commonly offered facilities at these hotels. Other Facilities at Jaipur Five Star Hotels
Five star hotels Jaipur offer all the facilities you can think of ranging from electronic key boards, to non-smoking rooms, to medical assistance- you name it and they have it. All major credit cards are also accepted. City Info
The Pink City Jaipur, the capital of Rajasthan is located in the eastern part of Rajasthan. Some of the important distances from Jaipur are:


Delhi-265 km
Ahmedabad-625 km
Chandigarh-510 km
Mumbai-1,176 km
Calcutta-1,472 km
Agra-246 km

Indiahotelandresort.com offers information on five star hotels in Jaipur and online booking for rooms at the five star hotels in Jaipur.