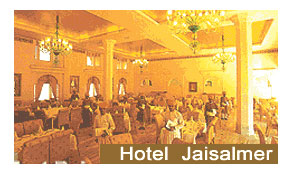 Introduction:
State: Rajasthan
City: Jaisalmer
About the Hotels in Jaisalmer:
The desert fortress of Jaisalmer is one of the most frequented places in Rajasthan. The many forts, Jain temples, Havelis and lakes in Jaisalmer are major tourist attractions. Most of the hotels in Jaisalmer are placed strategically taking advantage of the tourist's attractions. You have a wide variety of hotels to choose from while on a tour to Jaisalmer.If you are traveling on a shoe string budget and want to keep a tab on your budget while traveling we recommend you the many Budget hotels in Jaisalmer and Economy class hotels in Jaisalmer that offers good value for money. If money is not a constraint for you and if luxury is your watchword then you can put up in the First Class hotels in Jaisalmer. To understand the true tradition and "slice of life" of the royals put up in any one of the Heritage hotels in Jaisalmer that are reminiscent of the days of yore and replete with the tradition and culture of Rajasthan.
Accommodation in Hotels in Jaisalmer
Accommodation in Hotels in Jaisalmer differs as per the standard and category of the hotels. Most of the hotels are located near the hub of the city except Heritage hotels which are situated a few kilometers away from the din and bustle of the town. Accommodations in the budget hotels are spacious and clean. Try to take a room which has an attached balcony as that would give you access to the city view. Rooms in Heritage hotels and First Class hotels are replete with comfort and luxury. All the modern facilities are provided with. The heritage hotels are a perfect blend of modern amenities and traditional décor but the furnishing has been done so subtly that it never looks jarring or forced décor.
Dining in Hotels in Jaisalmer:
Heritage Hotels in Bikaner and First class hotels consists of a state of the art plush bar and one or more in house restaurant which is reminiscent of the royal kitchen. These are the best places from where you can get a true taste of authentic Rajasthani cuisine. The utensils are of ornate silver or other costly metals in keeping with the class and status of the hotel. Theme of Rajputana and the Thar Desert are commonly etched out in most of these restaurants. Budget hotels offers wholesome meals at a throw away price.
Business facilities in Hotels in Jaisalmer:
Conference rooms are provided in almost all the Heritage and first class hotels for the smooth proceedings of business. The hotels are fitted with the latest automation technology. However it is hard to find a conference hall in a budget hotel.
Recreational Facilities in Hotels in Jaisalmer:
The hotel authorities of the heritage hotels and first class hotels in Jaisalmer sometimes organize cultural programs in the evening to entertain the guests. Sometimes desert safaris are organized from the hotels. Most of these first class hotels have a well manicured lawn. You could go out for a leisurely walk. Some of these first class hotels have spa and Jacuzzi, billiard, volleyball and other exclusive facilities.
Some of the other facilities in most of the Heritage Hotels and First class hotels in Jaisalmer are


Health club with modern gym , sauna, and Jacuzzi
Swimming pool
Shopping arcade
Florist
International newspapers and journals
Complimentary welcome drink
Fax and internet facility
Dry cleaning
Laundry services

Generally the Budget hotel in Jaisalmer offers you services like:


Twenty four hour room services
Safe deposit
Travel Desk
Money exchange
Laundry services
Telephone
Television

City Information: If you are yearning for a desert safari in India, Jaisalmer is the ideal place for you. The city with its camel safari, colorful fairs and festivals, sandstone forts, and palaces are very much replete with traditional atmosphere. Try to book for a prior reservation in the month of January which sees Jaisalmer at its festive best.

For a trip to Rajasthan in India book a tour with Indiahotelandresort.com. Log on to Indiahotelandresort.com to know more about Hotels IN Jaisalmer.