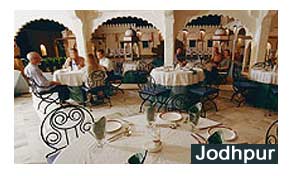 Introduction:
State: Rajasthan
City: Jodhpur
About The Hotels Near Jodhpur:
Jodhpur is the administrative district of Rajasthan. This amber hued city boasts of a rich cultural past that is replete with illustrious Rajput kings, a long history of wars, and splendid architecture that is well worth mentioning. This city with its yellow
sandstone forts, sprawling palaces, huge manors, Jain temples, camel safaris, and local Rajasthanis with colorful attire and headgear attract tourists from all over the world. However Jodhpur itself is not the only focal point of attraction in Rajasthan. You can make Jodhpur a base and travel further on to the nearby places around Jodhpur, which are storehouses of forts, palaces, and heritage hotels.
Accommodation in Hotels near Jodhpur:
Most of the rooms in these hotels are luxurious and are of Heritage category. You get the best of services and accommodation in these Hotels near Jodhpur. The rooms are tastefully done with all the modern amenities that one can call for. In some of these hotels period furniture, ornate murals and motifs, canopy beds, and private balconies give a special edge, which all discerning tourists cherish. Even the Budget hotels near Jodhpur provide you with clean and spacious rooms. These hotels overlook the vast stretch of The Thar Desert and many an evening is spent in the fun filled atmosphere of the camp fire outside in the courtyard of these Heritage hotels.
Dining in Hotels near Jodhpur:
Dining in Hotels near Jodhpur is a luxurious fare. In some of these hotels they offer the best of authentic Rajasthani cuisine. The carefully chosen ala carte is a traveler's delight. A wide variety of dishes in Continental, Chinese and Indian are also available. Some hotels offer you the privilege of having your food at the place of your discretion. You can either have your food in the courtyard or tell them to serve your food at the terrace overlooking scenic lakes or barren desert. In almost all of these heritage hotels a bar is maintained where you can pick from the choicest of foreign liquors.
Business Facilities in Hotels near Jodhpur
Most of these Hotels near Jodhpur provide you with a state of the art conference rooms with the latest automation technology, which help in the smooth proceeding of your business.
Recreational Facilities in Hotels near Jodhpur
Some of the common recreational facilities offered by the Hotels near Jodhpur are
Library
A variety of Indoor games
A modern and spacious Swimming Pool
Rajasthani Folk Dance Programs on request

Camel Safari
Village Safari
Theme parties
Picnic lunch
Other facilities in Hotels near Jodhpur

Banking Facilities
Telephone in every room with STD/ISD
Color Television with satellite channels
Dry Cleaning, Laundry Facilities

Doctor on call
Postal services
Information Desk
Cyber Café
Currency Exchange
City Information:
Jodhpur is replete with historical connotations. Whenever we speak of Jodhpur it conjures up in the minds eye, images of vast stretches of desert, sandstone forts and palaces, camel safaris and Rajputs ascending towards the battlefields. The fairs and festivals of Jodhpur, in keeping with its rich cultural heritage, reflect the past glory of the city. A weekend getaway from Jodhpur will stand you in good stead. Plan your route accordingly to Khimser, Luni, Manvar, Osian etc.
For a trip to Rajasthan in India book a tour with Indiahotelandresort.com. Log on to Indiahotelandresort.com to know more about Hotels near Jodhpur.