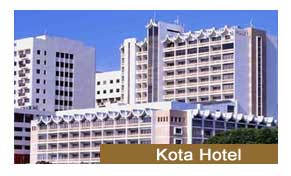 Kota, the well established city in Rajasthan is a renowned location as it holds highest number of educated persons in the entire state. Kota which lies on the Chambal River is also famous in Rajasthan for holding some of the most beautiful and successful hotels in Rajasthan. Kota is also regarded as the trade center of Rajasthan. There is a particular area in Kota which is acknowledged for producing cotton, millet, wheat, coriander and oilseeds. Several Industries have successfully flourished in Kota, namely cotton and oilseed milling, textile weaving, distilling, dairying, and the manufacture of metal handcrafts. It is easy to reach Kota as it has its own rail junction. Kota is also a road hub which lies 4.8 km to the north. It is also a leading tourist hub in Rajasthan and house many established hotels. Hotels in Kota are also very well decorated and treat the tourists with global hospitality.
Kota is world famous for its distinctive style of painting. Kota also produces fine looking Rajasthani saris and stone products which tourists ca carry back home as mementos. Kota has a separate extensive industry of stone-polishing of a particular kind of blue colored stone named Kota Stone. This Kota Stone is used in floor and walls of both residential and business building. It is believed to be a cheap alternative to marble.
Indiahotelandresort.com is well equipped to make your trip to Rajasthan fun and exciting.