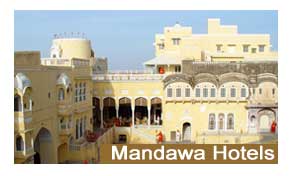 Mandawa is located in the Shekhawati region of Rajasthan. A semi arid region, Mandawa is famous for its palatial mansions and forts. Tourists from all over come to Mandawa to get a glimpse of the royal architecture of the forts and palaces of Mandawa. Indiahotelandresort.com offers online booking and information on Hotels in Mandawa.
The Hotels in Mandawa considered being the comfort hub of tourists, provides the best of services and comfort to the guests. From the classic heritage resorts of Mandawa to the cheap budget hotels of Mandawa, there are different kinds of accommodation for the tourists. From well furnished rooms to well equipped facilities these Hotels in Mandawa are simply the heaven of luxury and comfort. Relax during your royal retreat in the Hotels in Mandawa and experience the comfort of your luxurious vacation.
How to Reach Mandawa:
Nearest Airport :- Jaipur Airport is the nearest Airport to reach Mandawa.
Nearest Railhead :- The Jhunjhunu Railway Station is the nearest railway station connected to Delhi, Jaipur and Bikaner.
Mandawa is located in the Shekhawati region near Jhunjhunu in Rajasthan. Famous for its forts and Havelis, Mandawa reinstates the vintage flavor and classic charm of Rajasthan in every touristís heart. One of the major tourist attractions of Mandawa is the Mandawa Fort built in the year 1797. This age old Mandawa Fort still bears testimony to the bygone era of kings and kingdoms and the Rajput heritage of Rajasthan. Murals and Frescoes adorning the wall of these forts and Havelis truly bring out the craftsmanship of Rajasthanís artisans.
Indiahotelandresort.com.com offers online booking in Hotels in Mandawa and other hotels in India.