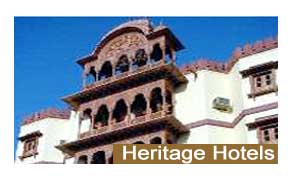 Introduction:
State: Rajasthan
City: Pushkar
About the Heritage Hotels in Pushkar:
If you want to explore a slice of life from the days of true blue royalty then we recommend you to put up in the Heritage Hotels of Pushkar. Pushkar with its many mythological associations, fairs and festivals, and camel safaris provide you with a worthwhile and adventurous vacation. Dine inside a splendid durbar hall or ride a camel, experience the erstwhile spirit in all the facets of these heritage hotels or take a leisurely walk along the long marble corridors of these huge heritage hotels in Pushkar. Two of the Heritage Hotels in Pushkar are Pushkar Palace and Jagat Palace.
Accommodation in Heritage Hotels in Pushkar
The Accommodation in Heritage Hotels in Pushkar are a delight to any tourists even the most critical ones. Heritage hotels like Pushkar palace provides you rooms that are replete with period furniture, large fresco paintings, chandeliers, four poster beds and more. Along with the traditional get up you also get to enjoy certain other modern benefits like state of the art restroom, a mini bar and more. Most of the rooms overlook the lake as both the aforesaid hotels are situated near the Pushkar lake.
Dining in Heritage Hotels in Pushkar
Multicuisine restaurants adorn the Heritage hotels of Pushkar. Try out the authentic Rajasthani dishes in the restaurants. The bakery at Pushkar Palace is recommendable for picking up bread rolls and pastries.
Business facilities in Hotels in Pushkar:
The hotels offer a big conference room remodeled in the style of a durbar hall. The air conditioned hall is adorned with fresco paintings and other period furniture.
Recreational Facilities in Heritage Hotels in Pushkar
Many of these hotels organize cultural and folk programs in the evening to entertain its guests. A camel Safari and desert expedition are also organized by the hotel authorities. The forts and palaces offer you a good chance to explore the history and culture of Rajasthan. In some hotels arrangements are there to play badminton, billiard and volleyball
Other facilities in most of the Heritage Hotels in Pushkar include:
Conference Hall
Restaurant
Room Service
Travel Desk
Laundry Service
Doctor on call
Car Rental
Clock Room
Swimming pool

STD/ISD Telephone
Camping
Jeep, Horse and Camel Safaries
Visa/Master Credit Cards Accepted
Money Exchange
Camel Karwan
Minibar
Elevators
Satellite TV
City Information:
Pushkar with its association of fairs and festivals, sand dunes and camel safaris, lakes and temples are a favorite hunt of both domestic and International tourists. The best time to visit Pushkar is during the time of October November when one sees Pushkar at its colorful best. Camel and horse races are a good source of entertainment. Pushkar Lake is supposed to be holy in nature and one dip in the lake will purify your soul and mind.
For a trip to Rajasthan in India book a tour with Indiahotelandresort.com. Log on to Indiahotelandresort.com to know more about Heritage Hotels in Pushkar