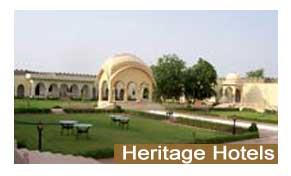 Famous for its national park, Ranthambore is beautifully located in the Sawai Madhopur district of southeastern Rajasthan. Known for its rich flora and fauna especially its tiger population, Ranthambore is visited by large number of tourists and wildlife lovers every year. With hotels and resorts spread all over Ranthmabore, finding an accommodation is not a problem here. You will easily find resorts and hotels suiting your budget needs. Indiahotelandresort.com offers to give you online information on heritage hotels in Rajasthan, India.
From luxurious star hotels to distinct heritage to economical and comfortable budget hotels, accommodations of all kinds are easily available in Ranthambore.
For tourists visiting Rajasthan and looking for a hotel that provides royal luxurious stay and warm hospitality in serene surroundings, heritage hotels in Ranthambore is the right place for you.
Providing you with a distinct and memorable experience, heritage hotels in Ranthmabore are something to look forward to on your stay here. The hotels are elegantly appointed in royal style and provide you with comforts and facilities of premium standards.
Serving sumptuous meals, heritage hotels in Rajasthan also promises to provide its guests with a fine and a memorable dining experience. From traditional Indian to exotic continental and sizzling Chinese to local Rajasthani cuisine you will get everything at these hotels to tickle your taste buds.
Besides, the hotels are also ideal for business travelers and provide excellent business center facilities to its guests.