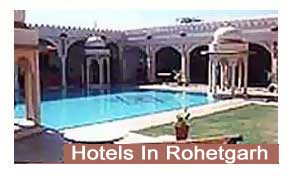 The hotels in Rohetgarh offer excellent accommodation options for the tourists in Rohetgarh. The hotels in Rohetgarh rank among the finest hotels in Rajasthan. One of the historical places in the North Indian state of Rajasthan, Rohetgarh is situated near Jodhpur. Rohetgarh is a small and charming village, home to many artisans.
Enjoy a memorable trip to Rohetgarh in Rajasthan by staying at the hotels in Rohetgarh. The hotels in Rohetgarh offer you luxurious and comfortable accommodation, dining, and recreational services. Marked by a fabulous blend of tradition and modernity, the hotels in Rohetgarh are cocoons of comfort. The hotels have well-furnished rooms and plush tents, decked with all possible amenities. The hotels have a restaurant of their own, or a dining area. You can pamper your taste buds gorging upon the lip smacking delicacies on offer, especially from the local Rajasthani cuisine.
There are numerous tourist attractions in Rohetgarh that are worth a visit. You can pay a trip to the Bishnoi settlements, dotted with scrubby homes and extravagantly dressed and well-ornamented women. The nearby places where you can go for excursions are the beautiful gardens at Mandore, the temples at Osian, the Kumbhalgarh Fort and the Jain Temples at Ranakpur. You may also visit the imposing forts and the amazing shops in the historic city of Jodhpur. Explore the tourist attractions in Rohetgarh staying at the hotels in Rohetgarh, Rajasthan.
India hotel and resort can help you book your room at any of the Hotels in Rohetgarh. Find all you want to know about the Hotels in Rohetgarh and our customized hotel packages.
Indiahotelandresort.com offers online information and booking for Hotels in Rohetgarh, Rajasthan.