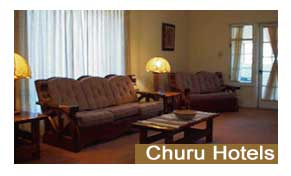 Nestled amidst the rugged Aravallis, Churu is famous for its grand Havelis that reflect the rich culture and architectural splendor of Rajasthan. Explore the richly crafted and intricately designed buildings of Churu which are living examples of Rajasthanís glorious artwork that allure a number of tourists. Painted walls, ancient temples and palatial mansions with architectural extravagance exhibit the craftsmanship of Rajasthanís artisans. Indiahotelandresort offers online information and booking in Hotels in Churu.
For the tourists, the Hotels in Churu are the ideal destinations which provide the best of comfort and services. Relax in the well furnished and spacious rooms of the Hotels in Churu which will be your ideal comfort zone after your hectic dayís tour.
How to Reach Churu:
Nearest Airport :- Jaipur Airport is the nearest Airport to reach Churu.
Nearest Railhead :- The Churu Railway Station is the nearest railway station connected to Delhi, Jaipur and Bikaner.
Churu in Rajasthan reflects the royal glory and classic charm of Rajasthan. The major tourist attraction of Churu is its Havelis whose colorful walls have preserved the remnants of Rajput heritage. The walls look like frescoes and murals and reflect the artistic splendor of the region.
Ratangarh is an important tourist attraction where you can get to see medieval forts, palaces and market places. Salasar Balaji in Churu has a Hanuman Temple which attracts a number of pilgrims every year. Churu is also famous for the six storeyed Surana Haveli for its magnificent structure.
So plan a tour to Churu in Rajasthan and arrange for a comfortable stay in the Hotels in Churu.
Indiahotelandresort.com.com offers online booking in Hotels in Churu and other hotels in India.