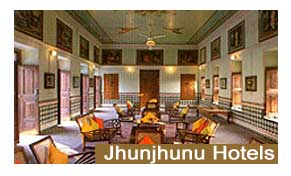 A semi arid region nestled amidst the Aravallis; Jhunjhunu reflects the rich art and culture of Rajasthan. A place of magnificent Havelis, Jhunjhunu is the place where you can get a glimpse of the medieval architectural splendor. Colorfully painted walls, ancient temples and palatial mansion exhibit the craftsmanship of Rajasthanís artisans. Indiahotelandresort offers online information and booking in Hotels in Jhunjhunu.
Hotels in Jhunjhunu provide to the guests the best of comfort and warm hospitality. From the heritage resorts of Jhunjhunu to the cheap budget hotels, one can find different categories of Hotels in Jhunjhunu. Well furnished rooms, well equipped facilities make the Hotels in Jhunjhunu, the heaven of luxury and comfort. Unwind yourself and enjoy a royal retreat in the Hotels in Jhunjhunu and experience the comfort of your luxurious vacation.
How to Reach Jhunjhunu:
Nearest Airport :- Jaipur Airport is the nearest Airport to reach Jhunjhunu.
Nearest Railhead :- The Jhunjhunu Railway Station is the nearest railway station connected to Delhi, Jaipur and Bikaner.
Famous for its forts and Havelis, Jhunjhunu in Rajasthan reflects the royal glory and classic charm of Rajasthan. One of the major tourist attractions of Jhunjhunu is its Havelis whose colorful walls have preserved the remnants of the bygone era of kings and kingdoms and the Rajput heritage of Rajasthan. The beautiful Ranisatiji Mandir and Bihari Ji Temple in Jhunjhunu are one of the ancient temples in Jhunjhunu that draws a number of pilgrims. Moreover the Sati Chowk and Tiberwala Haveli are also one of the beautiful monuments that attract a number of tourists in Jhunjhunu.
Indiahotelandresort.com.com offers online booking in Hotels in Jhunjhunu and other hotels in India.