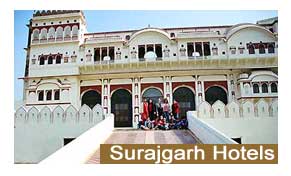 The town of Surajgarh in the Shekhawati region of Rajasthan got its name from the 18th century fortified palace – Surajgarh. This 4 acre palace has recently been converted into a palatial hotel – in fact, the foremost among the hotels in Surajgarh. These hotels are a special treat to the guests, because they unfold the splendorous regal life of the erstwhile 'Maharajas' (rulers).
Enjoy your holiday like a 'Maharaja' at the Hotels in Surajgarh, which serve as the perfect retreats to experience the regal charm of Surajgarh. These hotels are exclusive in that the management authorities here ensure that the traditional setting, architectural carvings, décor and style of hospitality at the hotels remain the same as it were in the olden times.
The hotels in Surajgarh are located in close proximity to the landmarks in the town and are known for providing the best of luxury and comfort in terms of lodging, dining and other facilities. Set in picturesque locales, and located within easy distance of the city's landmarks, these hotels offer excellent facilities and services that are nothing less than world-class. Offering quality services added with a dash of warm hospitality, these hotels and resorts are a widely preferred choice for tourists visiting Surajgarh.
Feel special as you stay amidst all contemporary luxuries at Surajgarh Hotels and are showered with personalized attention and care.
We at Indiahotelandresort.com recommend that you stay at any of the Hotels in Surajgarh and let us be your partner during your exciting holiday in Rajasthan. Most of these hotels are run by reputed hotel chains which run some of the finest Hotels and Resorts all over India.
Indiahotelandresort.com offers online information and bookings for Hotels in Surajgarh and in other destinations in Rajasthan, India.