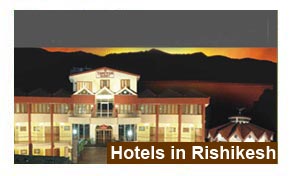 About 245 kilometers from Delhi and 43 kilometers from Dehradun, the city of Rishikesh has an area of just over 11 Sq Km. Rishikesh lies at an elevation of 365 m above the sea level. Rishikesh, literally meaning the place of sages, is a celebrated place on the bank of Ganga. The Shivalik range of the Himalayas surrounds the place from three sides, which gives this sacred place a tremendous scenic beauty. For the pilgrims, Rishikesh is the initial point for the Char Dham Pilgrimage which Comprises of Yamunotri, Gangotri, Kedarnath and Badrinath.
On its journey through the Himalayas, the Ganga gushes through the foothills in the deep ravines of Rishikesh. Encircled by hills on 3 sides, Rishikesh is situated on the right bank of the River Ganga, 40 kilometers from Dehra Dun, at the meeting point of the Ganga with the Chandrabhaga stream.
One of the several pilgrimage destinations in the Himalayas, Rishikesh is where Raibhya Rishi is assumed to have done sacrament to gratify God who came out as Hrishikesh, and hence is the name of the place. Millions of Hindus come to this place every year with high hopes to be free of their sins by bathing in the divine Ganga. Rishikesh can be defined by 3 areas, which are roughly the spot where the well-known Laxman Jhoola Bridge spans the river and lends its name to the locality; Muni-ki-Reti, which literally means Sands of the Sages, where the yogis spent time in meditation; and the increasing township on the banks of the river. This entire complex is known as Rishikesh.
The city of Rishikesh is 238 kilometers from Delhi by road and 23 kilometers from Haridwar. Haridwar is well connected by rail to Howrah (1438 kms), Bombay (1574 kms), Delhi (199 kms), Lucknow (475 kms), Agra (365 kms). Jolly Grant Airfield, which is 35 kilometers from Haridwar, is the nearest Airport.
There are a large number of Hotels in Rishikesh which has been set up in order to meet up to the ever growing needs of the tourists visiting the city throughout the year.
Indiahotelandresort.com offers online information on Hotels in Rishikesh, and other business hotels in India.