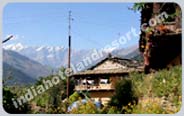 Kufri is an adventure paradise for the adventure buffs and sport lovers. A small hill station in Himachal Pradesh, near Shimla; Kufri is famous for its hiking and trekking trails. The snow-capped mountains and the icy sheets in winter make it perfect for skiing. One can also enjoy horse riding or explore the thick and dense forests on the Mahasu Peak. Hotel packages for Kufri give you the true opportunity to explore the majesty of the Himalayas.
The best thing about hotel packages for Kufri is that they offer the best view of the Himalayas which is a class in itself. Enjoy the morning with the rising sun, walk along the winding roads of Kufri and enjoy the snow white beauty of the Himalayas. Hotels in Kufri give the best views of the hills right from your room.
There are ample options available for accommodation in Kufri. There are standard hotels as well as the economy hotels to cater to the accommodation needs of the tourists to Kufri. Other options like the Tourist Rest houses are also available at Kufri. Hotels in Kufri ensure you the best ever comfort at affordable price.