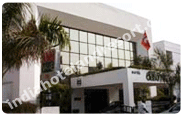 Dehradun is the picturesque town in Uttranchal. It is an important city of Uttranchal as it is the capital of Uttranchal. It is one of the most developed cities of India. Located admist the Shivalik hill ranges, in the foothill of Himalayas, Dehradun is a popular tourist destination of India. It serves as the entry point for all the trekkers and mountaineers while on journey of Garhwal. Dehradun houses the well known Forest Research Institute and the Indira Gandhi National Forest Academy. Two important rivers pass through Dehradun Ganges and Yamuna. Climate is moderate and cool here. Lots of tourists flock to Dehradun every year for enjoying winter vacations. There are number of hotels in Dehradun, where you can find quality accommodation. IndiaHotelandResort.com offers you the best hotels packages for winters.
Dehradun is an excellent destination for tourists and people who want relief from the scorching hot summers of plains. Nature has gifted Dehradun everything which makes a place beautiful. Hotels in Dehradun welcome every guest with a warm heart. They give the best views of the hills right from your room.
Hotels in Dehradun ensure you the best ever comfort at affordable price. There are hotels suiting everyone's need. There are super luxury resorts as well as budget hotels. Nevertheless each Dehradun Hotels offer great service and you will find Dehradun holiday more enjoyable than most other thanks to the never before hotel packages for Dehradun. We offer the best deals for winter packages for Dehradun Hotels.