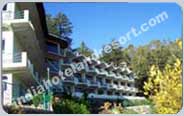 Originally called Valna, Kausani offers the magic of the deep pine forests and the majestic mountains give you panoramic view of Himalayas can be seen and the hotel is good. At the hill resort of Kausani the mountains rise so dramatically as if to reach the heavens. Enjoy the sky touching dignity of the mountains with hotel packages for Kausani.
Kausani hotels and resorts have something more to deliver than just some local and continental cuisine. The food is chosen to fit the spiritual style which gives the tourists a divine taste. From the hotels and resorts in Kausani, you can enjoy the view of the majestic Himalayans.
There are ample options available for accommodation in Kausani. There are standard hotels as well as the economy hotels to cater to the accommodation needs of the tourists to Kausani. Other options like the Tourist Rest houses are also available at Kausani. Hotels in Kausani ensure you the best ever comfort at affordable price.