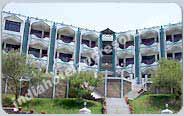 Mukteshwar is an ideal hill station if you want to do nothing but only admire the panoramic beauty of the Himalayas and leisurely walks through the winding paths of the hills. Next to the Mukteshwar temple is the Chauli Jali. It is a natural latticework on the rock. It is a belief that barren women are blessed with a child if they touch this jali. Booking Hotel packages for Mukteshwar give the best opportunity to venture into the majesty of the Himalayas.
There are hotels suiting everyone's need. Hotels in Mukteshwar ensure you the best ever comfort at affordable price. There are super luxury resorts as well as budget hotels. Nevertheless Mukteshwar hotels offer great service and you will find Mukteshwar holiday more enjoyable than most other thanks to the never before hotel packages for Mukteshwar.
The best thing about hotel packages for Mukteshwar is that they offer the best view of the Himalayas which is a class in itself. Enjoy the morning with the rising sun, walk along the winding roads of Mukteshwar and enjoy the snow white beauty of the Himalayas.