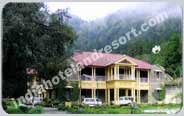 A small town in the hills of Kumaon, Nainital is a lovely hill station surrounded by mountains on three sides. Once this area had many lakes and it was called the City of 60 lakes or 'Chakta'. Today the life of Nainital revolves around the lake of Naini. But there are a few other lakes around Nainital which are equally beautiful and enchanting as the Naini Lake and attract tourists in thousands. Hotel packages for Nainital are indispensable for anyone wanting to explore the wild beauty of Nainital.
Hotels in Nainital welcome every guest with a warm heart. They give the best views of the hills right from your room.For tourist who enjoy bustle, there is lot to do; boating or sailing in vivid colored yachts; horse riding; walking along shady roads; taking the ropeway and shopping for woolen handicrafts, shapely candles and wicker ware.
Hotels in Nainital ensure you the best ever comfort at affordable price. There are hotels suiting everyone's need. There are super luxury resorts as well as budget hotels. Nevertheless each Nainital Hotels offer great service and you will find Nainital holiday more enjoyable than most other thanks to the never before hotel packages for Nainital.
Nainital hotels and resorts have something more to deliver than just some local and continental cuisine. With hotel packages for Nainital, you get the world class experience of hills, the revitalizing freshness of air and many more.