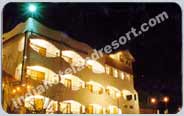 Ramgarh is a serene hill station perched Bhowali-Mukteshwar Road at a distance of 26 km from Nainital in Kumaon Division of Uttaranchal. Ramgarh is perfect place for the nature lovers, as you can gaze at the star-lit sky, marvel at the sunrise and sunset, admire the beauty of the mighty Himalayas and taste the Himalayan fruits. Hotel packages for Ramgarh give you the best opportunity to feel the dignity of the Himalayas.

Hotels in Ramgarh ensure you the best ever comfort at affordable price. There are hotels suiting everyone's need. There are super luxury resorts as well as budget hotels. Nevertheless Ramgarh hotels offer great service and you will find Ramgarh holiday more enjoyable than most other thanks to the never before hotel packages for Ramgarh.




It is known for orchards of a variety of Himalayan fruits like apples, apricots, and peaches. Providing you with luxurious stay and quality services, Ramgarh hotels are something to look forward to on your Uttaranchal tour. Visit Ramgarh to give yourself a real natural treat. This holiday, you can experience all these simply by booking hotel packages for Ramgarh.