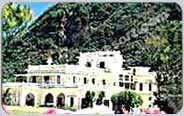 The holy town of Rishikesh is 24 km upstream on the banks of the Ganga where it is met by the Chandrabhaga. Literally, Rishi's (holy man) locks; this small town is the point where the holy Ganges crashes down in full glory onto huge. Rishikesh is the lap of Hindu philosophy and learning, with several ashrams devoted to the understanding and propagation of the faith. Devotees travel Rishikesh from all over the world in millions. Hotel packages for Rishikesh make them feel at home and allow them to satisfy their spiritual blend.
Hotels in Rishikesh ensure you the best ever comfort at affordable price. There are hotels suiting everyone's need. There are super luxury resorts as well as budget hotels. Nevertheless each Rishikesh Hotels offer great service and you will find Rishikesh holiday more enjoyable than most other thanks to the never before hotel packages for Rishikesh.
Rishikesh hotels and resorts have something more to deliver than just some local and continental cuisine. The food is chosen to fit the spiritual style which gives the tourists a divine taste.