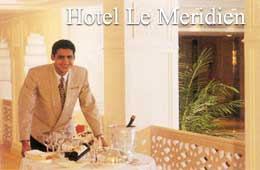 Recreation: Leisure and Fitness
Whilst staying at the Le Meridien Pune, there are various outdoor activities available to guests. The hotel is also ideally located for sightseeing the nearby attractions in Pune. These attractions include the Aga Khan's Palace, Snake Park, Shaniwarwada, the Raja Kelkar Museum, the Defence Academy, Shinde Chatri, the Parvati Temple and the Pataleswar Caves.
In order to ensure the total well being and relaxation of guests, the Le Meridien Pune offers a wide range of services, including an extraordinary health club spread over four floors, with a squash court, first in Pune.
City Information
Anyone who has visited Pune knows what a charming city it is. Also known as the 'The Queen of the Deccan', the city has lot to offer to its visitors. You can explore the history and pageantry of Pune, also called as the cultural capital of the state of Maharashtra. Once, the capital of the famous Peshwa rulers of Maharashtra, Pune today is a bustling, cosmopolitan city brimming with brimming with lush gardens, tree-lined avenues, stately buildings and business areas. Recently emerging as a major IT hub, Pune is home to one of the best Software Technology Parks in India, The Center for Development of Advanced Computing (C-DAC). Affectionately called the 'Oxford of the East', the city is a treasure trove of many prestigious educational and engineering institutes including the famous University of Pune. The Film & Television Institute of India (FTII), Dr. Iyengar's Yoga Institute and the Osho Commune are also located in Pune.