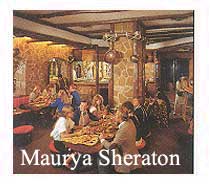 Leisure and fitness:
There are tennis and golf facilities at the Maurya for a good time-pass as well as physical activity. There is an exclusive 27 Jack Nicolas signature golf course. A multi-channel television is placed in every room. An in-house tarot card reader is there to tell your future. Ghungroo is the discotheque to make you feel relax and unwind with the sound of hip music and disco lights all around. There is an indoor pro-golf called OptiGolf made with the help of interactive computer technology. There are health club, beauty parlor and barbershop, swimming pool, yoga, and horse-riding facilities to pamper you while on a holiday.
Around the City:
Delhi has a lot to offer to you in terms of sight seeing, shopping and eating. India Gate, Rashtrapati Bhawan, Jantar Mantar, and Connaught Place are located in the central part of New Delhi designed by Lutyens. Mughal monuments Red Fort, Jama Masjid, Humayun's Tomb is worth visiting. Qutub Minar, Tughlaqabad Fort, Siri Fort, Lodi gardens etc. are the heritage of the Delhi Sultanates. Other attractions in the city are Birla Temple, Gurudwara Bangla Sahib, National Museum and Dolls Museum. One can shop in the markets of Karol Bagh, Connaught Place, Janpath, South Extension, Chandini Chowk and Dili Haat. Enjoy your stay at Maurya, New Delhi with India hotel and resort.