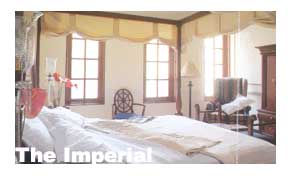 Leisure and fitness:
You can pass your leisure time by strolling in the lawns of the hotel, which is a kind of luxury in today's life. The private swimming pool is a perfect place to unwind and relax. While sitting by the poolside, you can control your eating binges by taking the services of the Imperial Snack Bar.
The Imperial Hotel has supported, collected, restored and displayed unique works of art since its establishment. Over the years, the hotel has become a repository of art and a home to artists. Each floor in the hotel is dedicated to a particular artist, whose original works adorn the walls of the rooms and the corridors. The hotel has preserved its collections of original engravings and lithographs with utmost care and has added to its collection over a sixty-year period.
Around the City:
Delhi has a lot to offer to you in terms of sight seeing, shopping and eating. India Gate, Rashtrapati Bhawan, Jantar Mantar, and Connaught Place are located in the central part of New Delhi designed by Lutyens. Mughal monuments Red Fort, Jama Masjid, Humayun's Tomb is worth visiting. Qutub Minar, Tughlaqabad Fort, Siri Fort, Lodi gardens etc. are the heritage of the Delhi Sultanates. Other attractions in the city are Birla Temple, Gurudwara Bangla Sahib, National Museum and Dolls Museum. One can shop in the markets of Karol Bagh, Connaught Place, Janpath, South Extension, Chandini Chowk and Dili Haat.