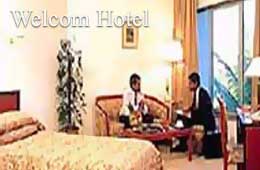 Leisure and fitness:
The guests of the WelcomHotel can enjoy several recreational facilities. The guests can take a swim in the clean and clear swimming pool at the hotel, or play outdoor sports like tennis, mini-golf and croquet. There is also a health club at the hotel, where guests can work out and burn off all the calories they might have put on, after eating the delicious food at the hotel's restaurants. The WelcomHotel also has a beauty parlor and a barbar shop, which are very useful particularly for guests who are in the city for business meetings or presentations, and need to look their best.
Around the City:

There are several places to see in and around Vadodara. If you wish to combine business and pleasure, it is the right place to visit. The city is known for its Chemical and automobile industries along with various tourist spots, such as, the Sayaji Bagh, where one can visit the Baroda Museum, the zoo, and even a Planetarium. The Baroda museum has many old manuscripts, artefacts and beautiful figurines on display. If antiquities appeal to you, you can also visit the Maharaj Fateh Singh Museum. Besides these, there are other various places worth a closer look. Be it business opportunities or a fun holiday experience, the city has it all.