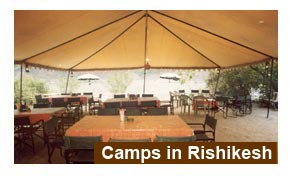 Sheer adventure, thrill and fun, the camps in Rishikesh is a complete package of absolute rapture. Set with an aim of understanding nature, the camps in Rishikesh offers tranquil and rejuvenating environment. The Camp is indeed the most picturesque, secluded & romantic beach camp on the Ganges. Camps in Rishikesh are set up for offering accommodation in serene and natural surroundings, besides rafting in the white waters of river Ganga.
Rishikesh is distinguished to be one of the most respected pilgrim destinations in India. Rishikesh has also grown into a main center of white water rafting in Northern India. Religious tour to Rishikesh can be uniquely complemented with the adventure of white water rafting, to make your Indian holiday all the more memorable. The rafting camps in Rishikesh are known to be among the most popular choices for adventure water sports in India. For a change, you can as well accommodate in one of the comfortable Hotels in Rishikesh which are the definition of comfort and elegance.
Accommodating in one of the Rishikesh camps is the ultimate way to appreciate the splendors of nature. There are many camps in Rishikesh which start at Rishikesh and go up to Kaudiayala and Shivpuri. These camps provide superb accommodation along the white sand beaches of the Ganges. Indulge in various adventure activities like fishing, nature tours, hiking and river rafting. The camping holidays in Rishikesh will promises to rejuvenate and fascinate the travelers. It is one of the most adventurous and thrilling thing to opt for while holidaying in Rishikesh.
The Rishikesh Camps offers different options for tourists to choose from. Designed to suit every budget and style, these camps have been set up with the attempt to enable guests get cozy with nature, while at the same time enjoying an exceptionally enthralling holiday. The scenic beauty will surely mesmerize you at every step and treasure every moment of your holiday.
Camps in Rishikesh, Uttaranchal have expert river runners, organized adventure arrangements, excellent safety measures, imported equipments and trained guides. Experience a new world of pure exhilaration amidst nature, at the camps in Rishikesh.
Indiahotelandresort.com offers information about Camps in Rishikesh and on other Hotels in Uttaranchal.