About Hotel Devi Garh Fort Palace, Udaipur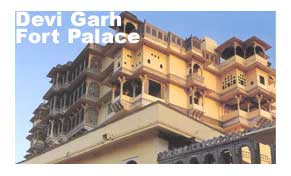 Constructed in the18th century AD, Devi Garh Fort Palace is nestled in the hills of Aravali in the village of Dilwara, Udaipur. The village commands one of the three main passes into the valley of Udaipur. In recognition of his bravery and loyalty to Maharana Pratap in the Battle of Haldighati in the year 1576 against the Mughal emperor Akbar, Sajja Singh was granted this strategic principality. The construction of the fort palace started in the 1760s, under the supervision of Raghudev Singh II. The succeeding rulers made additions in the fort palace as their contribution.

Devi Garh has regained its lost glory after years of restoration and renovation. The fort Palace of Devi Garh has been converted into an all-suite boutique hotel. The hotels portrays the ambiance of the past along with the present as the locally available materials like marble and semi-precious stones have been used in modern designs to create an unusual effect.
Hotel Specifications
Accommodation
There are 23 suites and 6 tents at Devi Garh, which are unparalleled, opulent yet graceful. All the suites are equipped with the latest modern conveniences to make your stay comfortable and memorable. Most of the suites have private terrace or garden. The Devi Garh suite features a private Swimming Pool and a Jacuzzi. The tents are available on request from the months of October to March. The guest amenities in each room include spacious bathroom with marble bathtub and individual shower cubicle, private dining areas, mini bar, individually controlled air-conditioning and heating, CD Player, Television with satellite connection and in-room safe.
Dining
The dining in the restaurant of the Devi Garh Fort is an epicurean's delight. The restaurant commands a superb view of the Aravali's and offers a Carte du jour of Asian and Continental cuisines. You may try Indian, Thai and Italian preparations by the team of our professional chefs. For the health conscious people, we have the special Spa menu at the restaurant. At your request, a visit to the kitchen can be arranged where you can learn secrets of the mother's recipes from our chefs.
Basic Data

Country
India
State
Rajasthan
City
Udaipur
Location
In Village Dilwara, 26 km Northeast of Udaipur
Rooms
23 Suites and 6 seasonal Tents
.... more