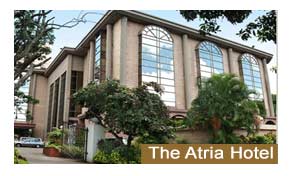 Basic Data :
Country
India
State
Karnataka
City
Bangalore
District
Bangalore
Location
P.B-5089, 1,
Palace Road,
Bangalore - 560 001,
India
Rooms
168
Introduction to The Atria Hotel Bangalore India:
The Atria hotel in Bangalore is a leading four star hotel in the city which offers remarkably multifarious experiences. The Atria hotel in Bangalore like all other hotels in Bangalore is always meticulous about their style, grandeur and reputation. It seems that The Atria hotel in Bangalore is always conscious about its impression that it creates on the minds of the tourists and hence is in a constant effort to dodge other hotels with all its versatility. It is not only a fine place to stay for your holiday but if you are on a business trip you can jolly well choose to stay in this hotel as it is meant to cater to all kinds of needs of the tourists and that too with utmost competency.
Accommodation at The Atria Hotel Bangalore India:
The Atria hotel in Bangalore is a renowned business hotel that presents exuberant freshness. The Atria hotel in Bangalore features 168 comfortable guest rooms specially designed with amenities like wireless Internet connectivity, international direct dial facility, channel music, and color television with satellite programmes, two line telephones and a complimentary breakfast and a cocktail.
Types of rooms:


Standard King Leisure
Standard twin bedded
Lifestyle King Leisure
Lifestyle twin bedded
Suites

Dining at The Atria Hotel Bangalore India:
1498 is the all day dining buffet restaurant with a la carte coffee shop menu. You can also get a mouth watering selection of an Andhra & Coastal cuisine during dinner. Her you will also get lip-smacking repertoire of Szechuan and Cantonese delicacies. Silk presents exotic cuisines from Pan - Asia. Tantalize yourself with traditional dishes from china and Thailand and contemporary dishes from Japan, Malaysia, Vietnam, Indonesia and Philippines. The Oriental foods served here will also mesmerize you. The restaurant is only open for dinner except Sundays open for lunch. The authentic signature Indian Restaurant takes you on a truly memorable culinary trip across India. The Gourmet extravanza includes mouth watering dishes from Hydrabadi Nawabi Khana, Authentic Avadhi cuisine and traditional specialties. Next is the last but not the least Aqua Bar which will take you aboard on a new journey of dips and swims across the pool of drinks and aqua splashes.

Other Facilities at The Atria Hotel Bangalore India:
The Atria Hotel Bangalore in India has exclusive conference halls which is equipped with all the modern amenities and has a seating capacity of many people. The business center is contemporary in style and is ideal for board meetings and interviews. Safe Deposit Box, nearby Shopping Mall, Room Service, Doctor on Call, Laundry, Money Changer, Fax, E-mail, Internet access, Travel Desk are some of the facilities available at this hotel. Wheel chair and Golf arrangement on close proximity are also available here.




Indiahotelandresort.com offers online information on Hotels in Bangalore.