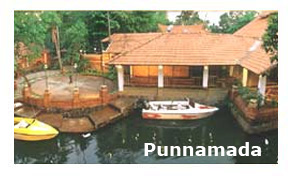 Basic Data
Country
India
State
Kerala
City
Alleppey
District
Alleppey
Location
Punnamada,Alleppey
688006,Kerala, 85km away
from Kochi international
Airport, 150 km away from
Thiruvananthapuram
International Airport
Rooms
53
Introduction to Punnamada Backwater Resort
The heritage hotel of Punnamada Backwater Resort promises to take you into the lap of luxury. Located on the bank of Punnamada Lake in Alappuzha, this resort is spread on the sprawling land of 10.5 acres. Punnamada Backwater Resort overlooks the water body spread over a kilometer. The breeze blowing by brings with itself the welcoming warmth of affection. Punnamada Backwater Resort allows one to have a view of the antique architecture and ancient ambience of the bygone era of Kerala. The lush green paddy fields and the Munroe Island located nearby would inspire even the dullest person to turn romantic!
Accommodation at Punnamada Backwater Resort
The accommodation facilities at Punnamada Backwater Resort will take the tourists to a land of luxury. The 25 cottages of this resort together with the 4 suites have their own private bathrooms. Some of the rooms even boast of private gardens. All the rooms are air conditioned and have TV, hairdryer and a mini bar to ensure that the visitors have more than just a comfortable stay.
Dining at Punnamada Backwater Resort
Guests staying at Punnamada Backwater Resort can walk across the wide-open lawn to reach the multi cuisine restaurant, Choola which is constructed on a limestone kiln. The delectable dishes on offer will surely satisfy the taste buds of even the most demanding guest. The breathtaking view of the nearby Munroe Island comes as an additional bouquet while you dine at this place.
Other facilities at Punnamada Backwater Resort
Punnamada Backwater Resort also offers a host of additional amenities to its guests in the form of a shopping arcade, conference hall, library, health club and an open-air swimming pool. Guests staying at this place also have the option of revitalizing themselves using special Ayurvedic massages offered at the Ayurveda center of this resort. Some other leisure activities offered by Punnamada Backwater Resort consist of fishing, boat cruises and an expedition to a nearby private island.
So, without any further delay, book yourself into Punnamada Backwater Resort in Alleppey so that you can have a great time soaking the unusual charm of the place.
Indiahotelandresort provides online information and online booking for the Punnamada Backwater Resort in Alleppey, Kerala.