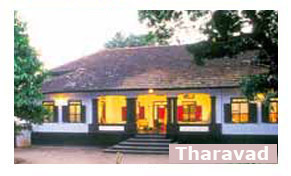 Basic Data
Country
India
State
Kerala
City
Alleppey
District
Alleppey
Location
West of North police station,
Sea View Ward, Alleppey
688012, Kerala, India, 1 km
away from Alleppey Railway
Station, 1 km away from
Boat Jetty
Rooms
--
Introduction to the Tharavad Heritage Resort
Tharavad Heritage Resort is truly the place to "be" for all those who want to thoroughly enjoy the beauty of Alleppey, Kerala. Nature has indeed bestowed this place with plenty and all of it can be savored while staying at the Tharavad Heritage Resort.
Accommodation at the Tharavad Heritage Resort
The century old building of the Tharavad Heritage Resort makes one reminiscent of traditional Keralian architecture. It has been built based on Vasthu. The rooms are very cozy and comfortable to live in. The flooring has been done using burnt coconut kernel and egg white which is why they are naturally cool. Terracotta tiles have been used for the roofs. There are several categories of rooms in this resort and the guests are at liberty to opt for the one which suits their style and budget.
Elegant antique furniture adorns the interiors of the rooms. Most of them are made of rose and teak wood. Even though the rooms have a traditional décor, they are well equipped with all kinds of modern amenities that ensure ease. Telephone and television has been provided in each room.
Dining at the Tharavad Heritage Resort
Relish mouth watering delicacies at the Tharavad Heritage Resort. Authentic Keralian cuisine is served here. They are well prepared following traditional recipes and using the freshest of ingredients. The dishes exude appetizing aroma on account of the generous use of spices. All your taste buds are sure to be satisfied after you relish the food served at this resort.
Other Facilities at the Tharavad Heritage Resort
There are many places that one can visit while staying at the Tharavad Heritage Resort. The Aranmula temple, the coir village, the handicraft center are some of them. Purchase some of the products as souvenirs or gift them to your dear ones back home.
Visitors should not miss out on the boat cruise through the backwaters while staying at the Tharavad Heritage Resort. It is indeed an experience of a kind and will remain etched in your memories forever. Angling too can be a favorite pastime for all those who love fishing. Make your evenings memorable watching the cultural programmes put by the talented artistes of Kerala.
Among the various facilities available, Ayurveda treatment is one of the most noteworthy. An Ayurvedic massage can work wonders for a tired mind and body.
Tharavad Heritage Home beckons you for an unforgettable vacation.
Indiahotelandresort provides online information on the Tharavad Heritage Resort in Alleppey, Kerala and also offers on-line booking for the Tharavad Heritage Resort in Alleppey, Kerala.