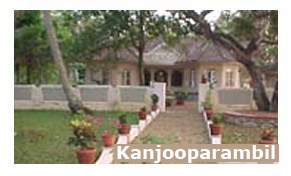 Basic Data
Country
India
State
Kerala
City
Alleppey
District
Alleppey
Location
Umbukadu, Ponga Post,
Nedumudi, Alleppey, 8 km
away from Alleppey town
Rooms
--
Introduction to Kanjooparambil Villa in Alleppey:
Kanjooparambil Villa in Alleppey is located along the bank of the river Pamba. This Villa is an ideal spot to stay in the midst of the nature of Kerala. Alleppey holds a rich historical background which attracts tourist to explore the land of beauty and heritage. Kanjooparambil Villa is a popular home stay in Alleppey. The home stay is well-liked as it bears the heritage of hundred years.

The most exciting and attracting part of the home stay is the warmth and hospitality that they offer to every guest and allows them to feel at home. So this home stay can be regarded as home away from home in the lap of the nature.
The Kanjooparambil Villa is located at Umbukadu district which is 8 kms away from Alleppey. The backwater and the serene nature make an ideal tourist destination.

Accommodation in Kanjooparambil Villa in Alleppey:
The Kanjooparambil Villa is a private bungalow that serves the guest visiting from different corners of the world. There are four deluxe rooms with all the modern facilities. The rooms are well furnished with wooden furniture to suite the nature outside and to keep the old charm of Kerala. The rooms are strategically positioned so that every room experiences the panoramic view of the nature.

There are both single and double bed rooms to suit every requirement of the guests. The rooms are spacious with adjoining verandah, attached bath with hot/cold water, wardrobe, and work station, telephone and color television with cable connection.

Dining at Kanjooparambil Villa in Alleppey:
The restaurant serves exclusive Kerala cuisines. The main attraction of the restaurant is the home made food and the variety of south India delicacies. Apart from south India delicacies the restaurant serves north India and Mughlai dishes.

Other facilities of Kanjooparambil Villa in Alleppey:
Travel assistance, swimming pool, village treks, local sight seeing, ayurvedic massage parlor, outdoor and indoor game facilities, backwater cruise, angling, rented car facilities, car parking, pickup and drop, country boat cruises, children park, conference room and work station are the additional facilities that Kanjooparambil Villa offers to the guests and make their trip to Alleppey more exciting.

Indiahotelandresort.com offers online bookings of the Kanjooparambil Villa in Alleppey, Kerala.