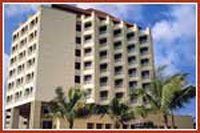 Basic Data
Country
India
State
Kerala
City
Kochi
District
Ernakulam
Location
Marine Drive, Ernakulam 6820011,
Kerala,30km from Kochi International
Airport,2km from Ernakulam Junction
Rooms
108
Group
Taj hotels
Introduction to Hotel Taj Residency Ernakulam
Ernakulam is considered a significant commercial city of Kerala. This city is quite famous for its serene and emerald green backwaters. At Ernakulam, watching the sun set over numerous Chinese fishing nets is a sight that should not be missed at any cost. Ernakulam also takes pride in its beautiful churches, museums and an old-fashioned Jewish town established by Jewish sailors centuries ago. So, it is no wonder that people from far and wide places come to Ernakulam to enjoy the scenic beauty of this place. Hotel Taj Residency Ernakulam offers a perfect abode wrapped in luxury for these people. Situated on the waterfront, this hotel is merely 15 minutes away from the Airport, and a few minutes from the business area.
Accommodation at Hotel Taj Residency Ernakulam
At Hotel Taj Residency Ernakulam, guests have a wide choice of accommodation by way of 108 rooms which includes 12 Executive Suites. Generally, the rooms at this hotel are classified under 3 categories namely Standard Rooms, Executive Rooms and Junior Suites. The Standard Rooms come with all the contemporary facilities like international direct telephone dial, laptop connectivity, tea/coffee maker, minibar, TV with a wide range of channels etc. Some of these rooms also provide a dramatic sight of the harbor. The Executive Rooms on the top floor of Hotel Taj Residency Ernakulam offer eye-catching view of the backwaters, sea and the city. In addition to all the modern amenities, guests staying at these rooms are also served complimentary breakfast in addition to coffee or tea throughout the day. The two-room Junior Suites provide the guests with a lot of breathing space in the form of a living room and a bedroom. In addition to all other modern amenities, these rooms also come with a work area.
Dining at Hotel Taj Residency Ernakulam
The International Eatery of Hotel Taj Residency Ernakulam positioned on the waterfront serves delicious Asian dishes and fusion cuisine. Visitors wanting to have a taste of authentic Indian cuisine may head straight to Utsav, the speciality Indian restaurant which offers South Indian and North Indian (especially tandoori) dishes. Guests eating dinner at Utsav are thrilled by the live instrumental classical music of Indian origin. The multi cuisine eatery called The Brasserie can be visited any time as it remains open all day. For having a taste of the choicest beverages, the bar named Harbour View can be visited which offers a superb view of the waterfront.
Other facilities at Hotel Taj Residency Ernakulam
Hotel Taj Residency Ernakulam also offers a host of other facilities like Car on Hire, Doctor-on-call, Laundry, Currency exchange, Baby sitting, Safe deposit lockers etc. to list a few. This hotel also lets out its spacious lawns for large parties. In case special requests are made, it also arranges special dinner and cocktail cruises to perk up your vacation in style.
So, donít delay any more. Book yourself into Hotel Taj Residency Ernakulam in Kochi so that you can have a great time amidst the scenic beauty of this place.
Indiahotelandresort provides online information and online booking for Hotel Taj Residency Ernakulam in Kochi, Kerala. To make a booking, fill up the form given below.