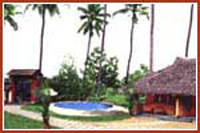 Basic Data
Country
India
State
Kerala
City
Kochi
District
Ernakulam
Location
Kochi, Kerala, 16 km away from the
Kochi International Airport, 8 km
from Ernakulam railway station
Rooms
--
Introduction to Royal Village
Kerala, God's own country boasts of a large number of alluring spots. Many of them are perfect getaways right in the lap of nature. Royal Village is one such exotic destination that promises you a vacation of a life time.
Idyllic is just the right word to describe the absolutely mesmerizing locale of Royal Village. Acres of greenery, tall coconut palms, tamarind and jackfruit trees, vast stretches of surrounding backwaters – all combine to create a near magical effect. Located in a green carpeted pristine island, the Royal Village is well connected both by roadways as well as inland waterways to Kochi and Ernakulam.
Accommodation at Royal Village
Accommodation comprises of thatched roof cottages with a very ethnic décor. They are akin to the tribal huts of Kerala. Don't be deceived by the outer appearance. Inside the cottages, facilities await you that cannot be described as anything short of world class. The rooms come with open air baths that give you a chance to live in close communion with nature even while maintaining complete privacy. Wake up to the sweet humming of birds and go to bed listening to the ripples of the water. The beautiful sights and sounds keep lingering for long.
Dining at Royal Village
A large array of delectable dishes ranging from Indian to Chinese to Continental is served at Periyar, the restaurant of this village resort. However we recommend the authentic Keralian dishes. They are extremely well prepared based on traditional recipes. Relish this local food referred to as Naadan and you are sure to be completely bowled out by the aroma and flavor. And what's more you can even learn how to cook them. Demonstration classes are held on a regular basis at the resort.
The management understands that good food can only be enjoyed in a first class setting. This is why they have taken special care to upkeep the ambience. The thatched air open air restaurant of Royal Village is perfect for a fine dining experience.
Other facilities at Royal Village
Ayurveda treatment is available at the Royal Village. Relieve your mind and body from the stress and strain of tiring routine lives with an Ayurveda massage.
The boat cruises through the backwaters of Kerala is indeed an unforgettable experience. Arranged by the hotel authorities, they are indeed one of a kind experience. Fishing and Angling are among the many options available at the Royal Village.
Illuminate your evenings watching the memorable stage shows put up by accomplished cultural artistes of Kerala. The dance performances are riveting.
A holiday at the Royal Village – A Heritage Village Resort in Kochi, Kerala will present you memories that will surely last a lifetime.
Indiahotelandresort provides online information and online booking for Royal Village – A Heritage Village Resort in Kochi, Kerala.