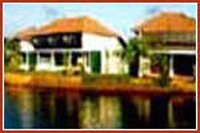 Introduction :
There is no dearth of alluring destinations in Kerala, Godís own country. Nature has indeed bestowed her with a lot of scenic beauty that is well manifested in the vast expanse of azure sea, the stretches of golden beaches, the palm fringed beautiful backwaters and the green carpeted valleys and mountains. Kottayam is no exception and hence, a favorite tourist destination in Kerala. The large number of tourists who flock the place look for good accommodation at affordable prices. One of the best choices in hand is Anjali Hotel, a popular hotel in Kottayam.
A government approved hotel, it is merely 2 km from the railway station and 1 km from the bus stand. This convenient location at K K Road in Kottayam is one of the greatest selling points of the hotel. It has made a name for itself not only because of this ideal location but also for its quality services that truly match international standards. You are sure to enjoy a wonderful vacation staying at Hotel Anjali in Kottayam.
Accommodation at Anjali Hotel in Kottayam
Indulge yourself in comfort and luxury at the well appointed rooms of Hotel Anjali. They come with attached bathrooms that have a regular supply of running hot and cold water. The presence of other necessary amenities like telephones, televisions and such others in these well decorated rooms, ensures that you feel absolutely at ease when residing in them. What will make your stay in the hotel particularly pleasurable is the room service provided by the competent staff of the hotel. The ever courteous, dedicated staff is very keen on attending to the guests and catering to their needs.
Dining at Anjali Hotel in Kottayam
Relish all the palatable meals served at the restaurant of Anjali Hotel in Kottayam. The taste and variety of these delectable delicacies ranging from Indian to Chinese to Continental will certainly impress you. Apart from savoring these mouth watering dishes, you can also go in for a drink at the well stocked bar of the hotel. There are many cocktails and concoctions and you are sure to find one that suits your mood and taste.
Other facilities at Anjali Hotel in Kottayam
The hotel is ideally suited for corporate travelers as well. Businessmen can not only opt for a nightís stay here, but also hold conferences in the plush hall of the hotel. This well equipped air conditioned conference hall is capable of accommodating about 50 people, and serves as the perfect venue for any kind of business meets and conferences. The cooperation extended by the competent workforce of the hotel ensures that each event organized here is a success.
There is ample car parking space in the hotel. In case you do not have your own vehicle, the hotel offers you the facility of renting a car for sight seeing trips or other business purposes.
The gift shop of the hotel houses an enviable collection of items that can be collected as souvenirs or presents for dear ones back home.
With so much on offer, your stay at the Anjali Hotel promises to be very memorable indeed.
Indiahotelandresort provides online information and online booking for the Hotel Anjali in Kottayam, Kerala.