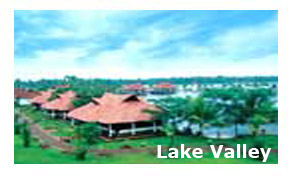 Introduction :
As a commercial hub of Kerala, Kottayam is frequented by people from all walks of life. From backwater cruises to scenic destinations, from old churches and temples to the bird sanctuary, traveling in Kottayam has no end. Take a leisurely stroll through the many ghats that the city has to offer or visit the exclusive handloom industry after a hard dayís conference. Donít miss out the picturesque locale of Kumarakom backwaters with its bird sanctuary. It is advisable that you book your hotels way beforehand as there is a possibility of rush if you visit the place in its peak season.
Lake Valley Backwater cottages provide you a comfortable stay amidst the emerald lush green coconut trees and the lure of the azure sea. The rooms are done tastefully keeping an eye to the spaciousness of the place. The main lobby of the hotel is adorned with paintings of Kottayam in all its modern day charm. Take a sneak peek at the beautiful setting sun from the hotelís balcony. Go out for a leisurely stroll amongst the many alleys and byways of this old city. Check out the roadside stalls and the many knick knacks that you can take home as a souvenir.
Though Lake Valley Backwater cottages is considered to be an economy hotel, the delectable platter that it offers is at par with the best restaurants in the town. Try out the local cuisine of the place. A spoonful of coconut chutney will enliven your taste buds. Fresh fish fried and sprinkled with a dash of lemon and the brine air everywhere will create an image in your mind forever.
For a trip to Kerala book a tour with indiahotelandresort.com. Log on to indiahotelandresort.com to know more about Lake Valley Backwater Cottages.