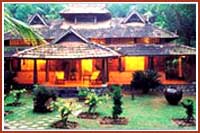 One of India's internationally renowned beaches – Kovalam in Kerala has been a favorite beach haunt of Europeans since 1930s. A tropical paradise in God's Own Country – Kerala, Kovalam entices beach lovers and tourists with three spectacular crescent beaches, an unending expanse of the azure blue sea, and the luxurious spread of green palm groves. This idyllic beach resort serves as a perfect holiday retreat not only for nature-lovers, but also for those who want to experience the magic of Ayurveda – the holistic system of natural cure.
Kovalam boasts of numerous Ayurvedic resorts and centers, and the Ayurvedic Heritage Resorts in Kovalam are popular as some of the world's best Ayurveda destinations. These hotels and resorts offer exclusive Ayurvedic treatments and body care programs for the esteemed guests. Travel enthusiasts from all over the world flock to the Ayurvedic heritage resorts in Kovalam to avail of the exclusive treatments offered here.
The various rejuvenation treatments offered at the Ayurvedic Heritage Resorts in Kovalam, involve combinations of herbal medicines, physical massages and various other forms of therapy, and are known to offer effective remedies for many a chronic disease.
The ancient science of Ayurveda is a unique, indispensable branch of medicine – a complete naturalistic system that originated in India and is best flourishing in Kerala. We at indiahotelandresort invite you to spend an idyllic beach holiday at the Ayurvedic Heritage Resorts in Kovalam, which will acquaint you with the curative powers of nature ensconced in the lush greenery and picturesque landscapes of the region.
While staying at the Ayurvedic Heritage Resorts in Kovalam, you can rejuvenate your bodyand soul by availing of the numerous rejuvenation programs and beauty therapies that are offered here. The resorts will also give you the exclusive opportunity to learn yoga under the expert guidance of distinguished 'gurus'. A team of efficient Aurvedic physicians will examine you on day to day basis and prescribe suitable treatments. Most of the Ayurvedic Heritage Resorts in Kovalam prepare their own medicinal herbs so that there are no adverse side effects and the results are almost guaranteed.
An important part of the treatments and therapies at the Ayurvedic Resorts in Kovalam is the daily Ayurvedic massages. Imparted by expert masseurs, these massages invigorate you completely, bringing about a new vigor and energy to your body and mind.
Indiahotelandresort.com offers online information on Ayurvedic Heritage Resorts in Kovalam, Kerala.