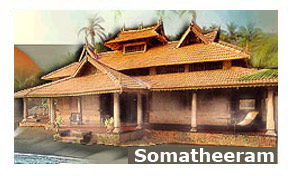 Discover the secret of eternal youth at Somatheeram Ayurvedic Beach Resort, located in the southern part of the renowned Kovalam Beach in Kerala. A perfect hideaway, which is brimming with overwhelming natural splendor, Somatheeram is classified as the World's first Ayurvedic Beach Resort which combines the features of a Beach Resort and an Ayurvedic Center.
Located conveniently, at about 21 km from Trivandrum city, Somatheeram Ayurvedic Beach Resort is considered to be amongst the best in offering rejuvenating Ayurvedic treatments. Perched atop a hill and sprawled over an area of 15 acres of lush greenery, this Ayurvedic resort houses traditional Kerala-style bungalows, built in wood and featuring antique, carved doors and pillars.
With exclusive facilities to rejuvenate you body, mind and soul, Somatheeram Ayurvedic Beach Resort offers a perfect combination of holiday, health, yoga and meditation programs. The enchanting environment of palm groves and azure blue waters adds to the unparalleled charm of the resort.
Accommodation at Somatheeram Ayurvedic Beach Resort
Guests can enjoy luxurious accommodation at the splendorous traditional Kerala houses, bungalows and cottages at Somatheeram. The traditional houses are categorized as 'Sidhartha', 'Illam', 'Arappura', 'Jeeva and Jyothi' and 'Nalukettu'. 'Sidhartha' features granite palaces with plush living rooms, spacious bed rooms overlooking a scenic view and leading to an open courtyard.
The cottages are round thatched villas, built of natural mud and bricks, and sporting en suite bathrooms.
Dining at Somatheeram Ayurvedic Beach Resort
The in-house restaurant specializes in regional, Indian, tandoori, barbeque, Continental and Chinese cuisines.
Ayurevda at Somatheeram Ayurvedic Beach Resort
The Ayurvedic Rejuvenation Centre at Somatheeram Beach Resort offers exclusive treatments based on the Vedic Science – Ayurveda, and aimed at strengthening body immunity as well as preventing disease. Expert Ayurvedic physicians chalk out exclusive rejuvenation therapies for each individual after examining each of the guests.
Other Facilities

Doctor on call
Currency Exchange
Laundry service
Beach umbrella service
Room service
Yoga & meditation programs

Cultural show
Travel Desk
Sight-seeing
Tours arranged on request
Car parking facilities
Indiahotelandresort.com offers online bookings at Somatheeram Ayurvedic Beach Resort in Kovalam, Kerala.